#FixTheCountry: Ghanaians for Spain start to demonstrate in the street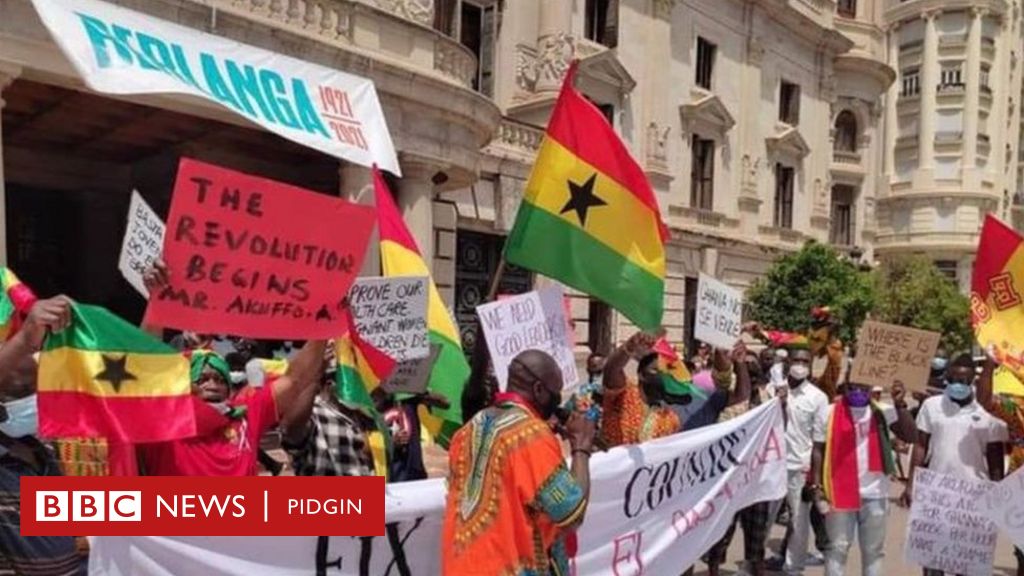 Ghanaians for Spain in the streets call on the government to #FixTheCountry in the financial difficulties that citizens are going through.
Hundreds of protesters on the streets of Spain over the weekend held up banners, posters and placards to express their concerns.
Protesters taking to the streets complain about exploitation by the Ghanaian Embassy to Spain which charges high fees for dented passports.
BBC Pidgin's follow-up with one of the protest leaders, Mark Oliver Vormawor, revealed plans were underway to hold a nationwide street protest in July.
The hashtags #FixTheCountry and #WeGoDemonstrate are trending on Twitter as people start tweeting and rallying support for the main protest for Ghana.
Some of the issues protesters campaign against include bad governance, exploitation of young people, unemployment, killer taxes, high cost of living, corruption.
Demonstration plans in Ghana underway
Ghanaian youth are targeting July 3 as their exit date to ask the government to #FixTheCountry.
The initial protest plan will not happen on May 9, as Ghanaian police are planning an injunction against them.
Ghana's Supreme Court last week overturned the injunction, as the court called it an "error" to obtain an injunction against the protesters by ex parte petition.
Despite their support for the campaign, some Ghanaians like former Ghanaian President John Kufuor do not support the protest.
Why former Prez Kufuor on #FixTheCountry
Former Ghanaian leader John Agyekum Kufuor called supporters of the #FixTheCountry campaign "forgetful".
"When we fix the nation, we suddenly behave as if we are fixing the country before someone destroys me," Kufuor said.
"When we gain independence, we just start with industrialization. So we start building factories. It costs us a lot of money…
He blames Ghana's challenges today on the post-colonial mistakes political leaders like Nkrumah make.